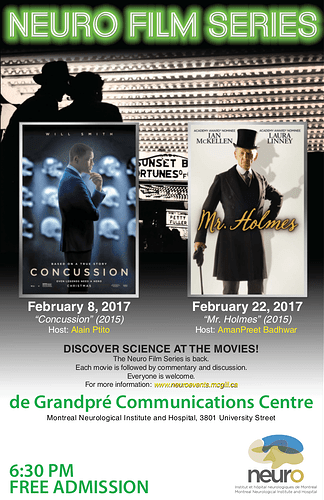 The Montreal Neurological Institute invites you to discover science at the movies!
The 2017 Neuro Film Series opens on February 8th (6:30 pm) with Columbia Picture's "Concussion" (2015). Dr. Alain Ptito, director of the Department of Psychology of the MUHC, hosts the evening's film presentation. His specialization on using brain imaging techniques for examining brain trauma amongst athletes will bring about an engaging and mind-opening discussion about the multi-award nominated film. On January 27, Dr. Ptito and numerous colleagues and athletes will host Heads Up, a public lecture and scientific poster event to benefit concussion research (https://www.alumni.mcgill.ca/aoc/events-travel/EventDetails.php?id=MzA3Nzc).
About the film
"Concussion" starring Will Smith, Alec Baldwin, Gugu Mbatha-Raw and Albert Brooks, directed and written by Peter Landesman, is based on "Game Brain" by Jeanne Marie Laskas. The film is about forensic pathologist Dr. Bennet Omalu (Smith), who discovers neurological deterioration similar to Alzheimer's disease while conducting an autopsy on a former NFL football player. As Omalu's findings on the disorder get published, other athletes face the same diagnosis – and Dr. Omalu pursues to raise public awareness about the dangers of football-related head trauma.
Where: The Montreal Neurological Institute and Hospital, 3801 University Street, de Grandpre Communications Centre.
Contact: debbie.rashcovsky@mcgill.ca or 514-398-6047 or go to www.neuroevents.mcgill.ca
Neuro Movie Nights are free, and the popcorn is too!
We look forward to seeing you there!
---
L'Institut neurologique de Montréal vous invite à découvrir la science au cinéma!
Les soirées cinéma du Neuro reprennent le 8 février 2017 (18 h 30) avec le film Concussion de Columbia Pictures (2015). Le Pr Alain Ptito, directeur du Département de psychologie du CUSM, animera la présentation du film. Sa spécialisation dans l'utilisation de techniques d'imagerie cérébrale pour examiner les traumas au cerveau chez les athlètes suscitera une discussion intéressante et édifiante à propos de ce film nommé pour plusieurs prix. Le 27 janvier, le Pr Ptito et plusieurs collègues et athlètes seront les hôtes de l'événement TÊTES HAUTES – une conférence publique et une présentation scientifique par affiches au profit de la recherche sur les commotions (https://www.alumni.mcgill.ca/aoc/events-travel/EventDetails.php?id=MzA3Nzc).
Le film
Le film Concussion (en français Commotion au Québec), qui met en vedette Will Smith, Alec Baldwin, Gugu Mbatha-Raw et Albert Brooks, a été réalisé et écrit par Peter Landesman d'après l'article Game Brain de Jeanne Marie Laskas. Il relate l'histoire du pathologiste médicolégal Bennet Omalu (interprété par Smith), qui découvre une dégradation neurologique similaire à celle de la maladie d'Alzheimer en faisant l'autopsie d'un ancien joueur de football de la NFL. Avec la publication des constatations d'Omalu à ce sujet, d'autres athlètes reçoivent le même diagnostic – et le Dr Omalu s'investit pour sensibiliser la population aux dangers des traumas à la tête qui sont liés au football.
Où : L'Institut et hôpital neurologiques de Montréal, 3801, rue University, Centre de communications de Grandpré.
Personne-ressource : debbie.rashcovsky@mcgill.ca ou 514-398-6047 ou www.neuroevents.mcgill.ca
Les soirées cinéma du Neuro sont gratuites, tout comme le maïs soufflé!
Au plaisir de vous y retrouver!
Deborah Rashcovsky
Internal Events and Conference Administrator